6 Genius Direct Mail Solutions You Need to Know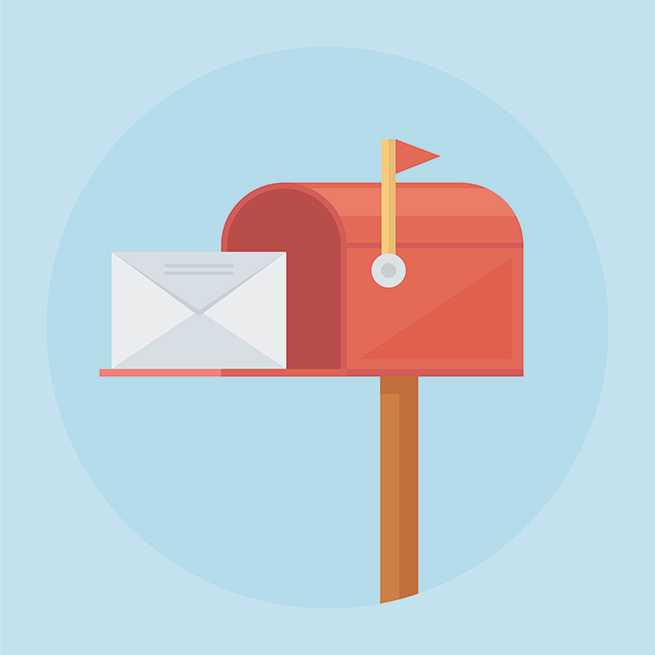 6 Genius Direct Mail Solutions You Need to Know
We live in an increasingly digitized age, but that does not mean direct mail is dead. Quite the contrary! In fact, Smallbizgenius reported that as of 2021, 42.2% of direct mail recipients either read or scan the mail they receive. When compared to an average open rate of 18% for email marketing, that's pretty impressive!
Do those numbers surprise you? Many marketers tend to assume that in the digital age, direct mail is archaic and irrelevant. Nothing could be further from the truth. We love digital marketing, but we also know that direct mail still has a place.
Aside from its high return on investment, direct mail is also highly trackable. That makes it easy to understand exactly what is going on with your campaigns, assess what is working, and cut anything that isn't.
If you're about to embark on your first direct mail campaign or just starting to assess whether it's the right approach for your business, you might not know where to start. That's where we come in! Read on, and we'll share five of our top direct mail solutions tips that we think you should know about.
Play On Your Recipient's Emotions
There's a quote from the great Maya Angelou that goes like this: "I've learned that people will forget what you said, people will forget what you did, but people will never forget how you made them feel."
Well, that truism also applies in marketing. People might not remember a fact, a number, or a statistic. But if you invoke an emotional response, your message will stick with them long after they finish reading your communication.
Charities and non-profit organizations are the most obvious examples of emotion-driven marketing. But that doesn't mean it can't also work for traditional businesses, whether you're a large corporation or a small business.
When you play on someone's emotions, you aim to make them feel something – happiness, excitement, joy, fear, sadness, guilt, or any of a myriad of emotional responses. The trick is to know exactly what emotion you're trying to invoke, and align your copy and image choices with that goal.
Ensure you get feedback on your direct mail campaign before you send it, too. People respond to things differently, so getting a cross-section of feedback will ensure it's striking the right chord with your target audience.
Ask a Question
Questions drive engagement. So if you want to get your audience thinking about your product, service, issue, or campaign, asking them a question is a great way to lead them towards identifying with your brand and thinking about how it can help them.
Here's an example. Let's imagine you are a financial services company and want customers to switch their personal banking to you in order to save money. You might capture their attention with a question like, "what would an extra $500 per month mean to your family?".
Straight away, the customer will be thinking about just what that money would mean to them. They'll then be much more open to reading what else you have to say.
For this strategy to work, the question needs to draw the eye straight away. That means placing it in a prominent position, such as the top of a letter, the center of a promotional postcard, or even on the envelope. You might also use a different font style, color, or other clever design elements to draw attention to your question and make it stand out.
Include a Gift or Freebie
What's one of the best ways to get your audience to respond to your direct mail marketing campaigns? Give them something! This is a highly effective engagement tactic and gives you a fantastic opportunity to get creative and show off your brand's personality.
British magazine The Economist sent these balloons to direct mail recipients: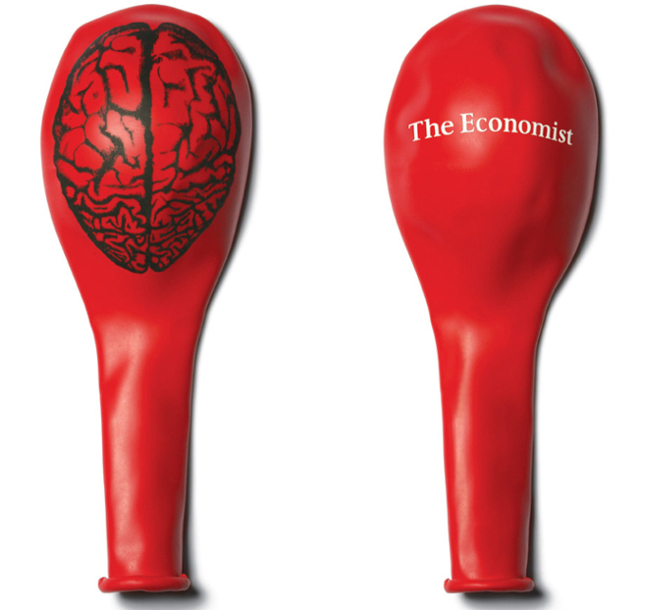 When you blow up the balloon, the picture of the brain grows – a metaphor for how reading The Economist makes you smarter! It's a fun and memorable way of getting the message across.
But if you're going to go to the extra expense and effort of sending those on your mailing list a physical gift as part of your direct mail campaign, you need to make sure you're sending the right item. Your choice must align with your brand identity and make sense within the broader context of your campaign.
For example, if you were trying to invoke a sense of warmth and cosiness, you might send branded sachets of coffee. If you are a business that sells office supplies to corporate customers, you might include a pen or pencil. And so on.
Play with Shapes
Your direct mail campaign does not necessarily have to take the form of A4 letters or rectangular postcards. In fact, playing with shapes and formats can be an excellent way to create a campaign that stands out and is memorable in all the right ways.
Here's how Amazon Fresh did exactly this: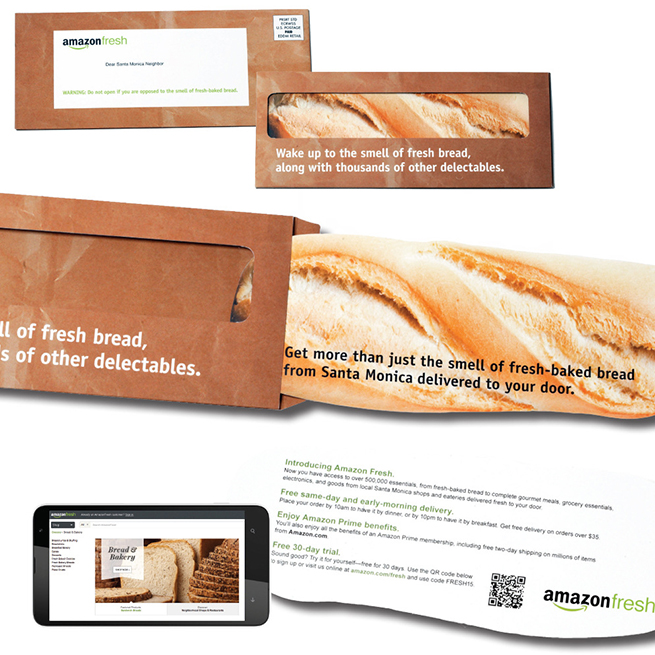 Again, you must make sure you design print materials that align with your brand identity and overall campaign goals.
We saw a great example in which a direct mail advertising campaign for a restaurant used postcards that were cut to look as though a bite had been taken out of the corner. Another, for a pizzeria, used direct mail communications shaped like a slice of pizza. The possibilities are almost endless if you get creative.
Just remember that whatever design you go for needs to be able to fit in people's mailboxes. It's also a good idea to avoid anything with parts that could get accidentally bent or torn off while in transit.
Timing Matters
Most marketers understand the importance of tapping into major holidays and dates such as Christmas, Easter, Valentine's Day, Thanksgiving, Black Friday, and so on. If you're running seasonal direct mail campaigns, always plan them in plenty of time.
But did you know you can go one step further and send out personalized timely communications to individual customers? This type of targeted marketing is sure to impress. For example, birthday direct mail can be a fun way to engage with your customers, give something back, and reward them for their loyalty.
Your birthday mailing should include a special offer. For example, if you run a bakery, you could invite them to come in for a free slice of cake any time during their birthday week. If you run a hotel or hospitality business, offer them 20% off their next stay with you. And so on.
You can also send a customer a piece of mail around their "anniversary" with your company. For example, if someone made their first purchase a year ago, you might send them a fun "happy anniversary" mailing that includes a freebie or special offer. If they buy from you regularly, this rewards that loyalty and builds on the relationship. If they have only bought from you once, it reminds them that you exist and might just give them the nudge they need to come back.
Invoke a Sense of Urgency
We're all familiar with the concept of FOMO, or fear of missing out. You can leverage FOMO in your direct mail campaigns to get your customers to take action quickly.
The trick is to create a sense of urgency, for example by showing that stock of a desirable product is limited or that an offer will only be available for a short time. Using words and phrases like "hurry," "before they sell out," and "last chance" will let your customers know that if they want to take advantage of what you're offering, they need to do so now.
For best results, ensure that your copy that leverages FOMO is prominently positioned and stands out. You should also include a clear call-to-action that shows the recipient how to buy the product, enjoy the offer, or do whatever it is that you want them to do.
Inspired? Get Started Today!
Have any of these suggestions inspired you? If so, reach out to our friendly team at Hygrade Business Group, and we'll be able to advise you on creating the perfect direct mail solutions for your business.
We look forward to working with you to make sure your next campaign hits all the right notes!