Top Ways to Get Your Prospects to Your Tradeshow Booth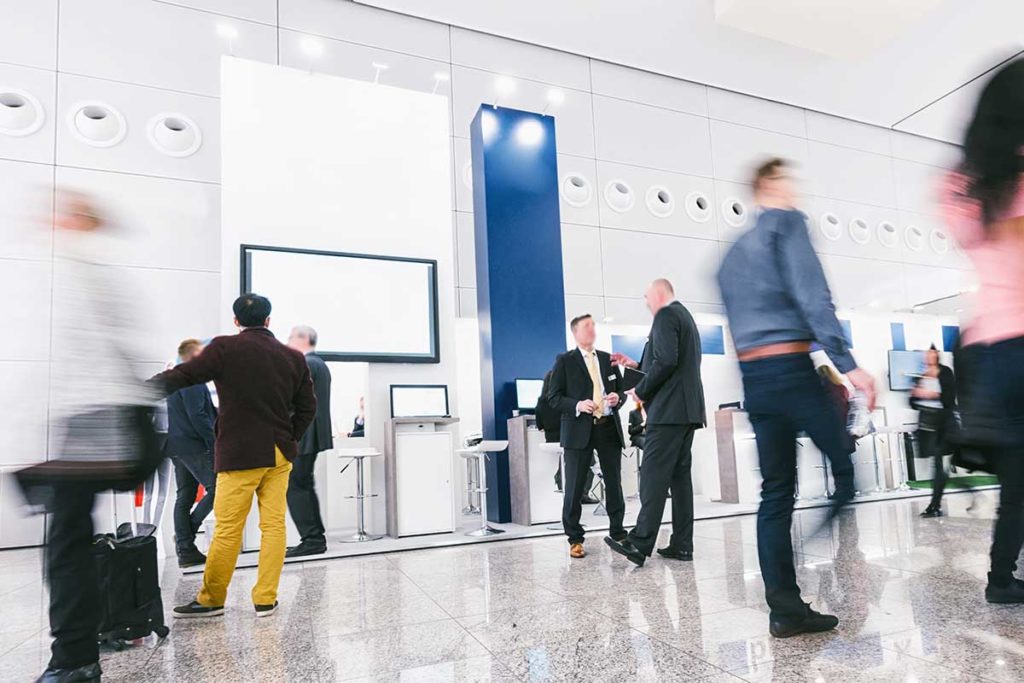 Top Ways to Get Your Prospects to Your Tradeshow Booth
Inevitably, the COVID-19 pandemic has had a major impact on tradeshows since early 2020. According to the UFI, the global association of the exhibition industry, this sector was reduced by 68% in 2020. This resulted in an estimated $330 billion in lost trade among exhibitors. 
Fortunately, in 2022, the world has learned to adapt to the new reality, and tradeshows have made a comeback. With these shows now as common as they were pre-pandemic, if not more so, it's vital to make your tradeshow visits a worthwhile investment of time and resources. This means creating a booth that brings in those prospects. 
Read on to learn how. 
First, Consider What Type of Tradeshow Booth You Need
There are a few considerations to bear in mind as you consider how  to best design and arrange your tradeshow booth. 
Budget
Finances are, inevitably, a major consideration. Larger booths are more complex and expensive, allowing more room for flair and creativity. However, you can still do a lot with a more limited budget.
You'll also need to take into account the labor and time needed to ship your booth. Larger booths require more labor and effort, which can be costly, while smaller booths can be small enough for one person to carry and set up.
Area
Booths are limited by the area you've booked at the tradeshow, and the show organizers will not be impressed if you overrun your allotted space. 
If you have booked a wide space, you have more options. Your presence can be impressive, allowing you to spread out and even create different areas or "zones."
More limited spaces will need to be used efficiently. Instead of multiroom areas with overhangs, you may only be able to fit one small backdrop and one or two banners. If this is the case, though, don't worry—youou can still create an impression even in a small area. 
Know the square footage of your area before you plan your booth. If possible, test your booth ahead of time by setting it up in a marked area of that size. This will also help you iron out any setup or arrangement details before you get to the show. 
Location 
In tradeshows, as in real estate, it's all about location, location, location!
Before you book your tradeshow space, think about the area you'd like to be in. Would you prefer to be on a main drag? The advantage of this is everyone will likely pass your booth at some point, meaning more eyes on your offering. The downside, though, is that it means more competition from surrounding booths.
Choosing a location near a break area, where attendees might be grabbing a bite or drink, can be a smart decision. With a little creative thinking, you can identify additional opportunities to provide promotional items that might prove useful. Think about plastic cups if you're near the drinks station, for example. Or, if you're in a dining area, setting up some empty tables in your space gives attendees somewhere to eat and gives you a great touch point to start a conversation.
Remember: Premium spots cost more money, so consider your budget when booking your booth. 
Tradeshow Booth Ideas That Grab Attention
Once you've set your budget, chosen the size and location of your booth, and booked your spot, it's time to design a tradeshow booth that will get results. 
Master Tradeshow Booth Messaging and Design
First impressions are critical. Busy attendees make a split-second decision on whether or not to approach your booth; therefore, creating the right design and messaging is critical. 
Make sure your messaging is strong and straightforward. Don't overcomplicate things, get too technical, or go overboard with jargon. In a busy show with a lot going on around you, being clean and clear helps your business stand out in the right way.
Ensure your booth is branded. Your brand logo should be placed in high-up and prominent positions, allowing attendees to recognize you immediately and see your booth from a greater distance.
Your branding must also be consistent. If the look and feel of your booth does not align with your website, collateral, or promotional items, things will seem disjointed. This inconsistency will make your brand appear less professional and your booth far less memorable.
Ensure Supporting Tradeshow Booth Collateral
While the messaging of your booth should be straightforward and attention-grabbing, collateral pieces allow you to get creative and make a lasting impression. 
The most important factor is making sure you're providing your audience with things that will interest them. For engineers, detailed spec sheets or safety data sheets (SDSs) can be ideal. If your business is related to architecture or construction, for example, you might want to have some gridded paper on hand, allowing you to draw diagrams quickly.
If you have a lot of collateral items, develop a system to keep everything together. Nothing says "unprofessional" like being unable to find an item when you need it. 
Finally, ask each employee who will be working on your booth to bring more business cards than they think they'll need. These are an ideal way to remind prospects to reach out to you after the show. In addition, many tradeshows have dedicated areas or tables where you can leave a few cards.
Create a "Gimmick" That Grabs Tradeshow Attendees' Attention
Humans are curious creatures with a love of novelty. A marketing gimmick plays on these aspects of human nature and is designed to make you stand out from the crowd, grab attention, and ensure people remember you. 
Your gimmick must be connected to your business and offering. Here are a few possible ideas to get you started. 
Competitions or Prize Draws 
Why not run a contest for a piece of promotional merchandise or a complimentary service? This allows you to gather business cards (invaluable for making contact with prospects later), which you can then use to draw a winner at the end of the event. 
Games
Tradeshows might be work events for most attendees, but people still love to have fun. Therefore, games are also a popular option for tradeshow booths. 
You could have a wheel that attendees can spin for a chance to win a prize, a Plinko-style game, or something else entirely. This may entice people who would have otherwise only hurried by to stop and quickly  glance at your services.
Product Demonstrations 
If you have the time and space, product demonstrations are a powerful way to make people stop at your booth. This is the principle of "show, don't tell" in action. Allowing prospective clients to see your product in action increases their interest and makes your products and services seem more real.
Don't forget to personalize each demo to the prospect as much as you can. 
Provide Free Tradeshow Swag
Everyone loves a freebie! Tradeshow swag, from the simple plastic cup to more elaborate items, such as backpacks and bags, gives your prospects something to take away and keeps your branding fresh in their minds. 
As you plan your swag and promotional items, think about what makes sense for your business and your audience. If your tradeshow also has a lot of presentations or lectures, providing a free notepad and pen might be useful. If you know your target audience is made up of people who spend a lot of time at their desks, items such as stress balls and mouse pads can be a hit.
Finally, always have some small or medium branded tote bags on hand. Tradeshow attendees will likely end up with a lot of items to carry around, meaning their bags get filled up fast. A free bag will always be appreciated.
Add a Touch of Digital Signage
Digital signage has a lot of advantages in a tradeshow. When placed in a high and prominent position, it can help demonstrate your services, provide a boost to your branding, and draw attention to your booth.
Again, make sure your use of digital signage aligns with your brand and messaging. If you are a software company, for example, linking your digital display to a computer can be a useful aid in demonstrating its capabilities. 
Digital signage also allows you to promote other aspects of your company's presence, such as your website and social media channels, to attendees. Why not create a branded hashtag for the event and ask visitors to your booth to post about you to their social channels in exchange for some premium swag or an entry into a prize draw? 
Resist the Hard Sell 
Having your booth employees go into a hard-selling mode will turn off far more people than it will entice. While a tradeshow is ultimately about making sales, a gentler approach is required. People are social animals by nature, so ensure that your booth projects a pleasant and friendly feel.
A great way to avoid your approach feeling like a hard sell is to grab people's attention and start conversations in the right way. Let's imagine you're trying to snag the attention of a passerby and engage them in a conversation. Here are a few tips to help you do that. 
Ask about what they're looking for at the show.

 This will give you an insight into their current pain points and any specific wants or needs you might be able to address. 

Ask if they've seen anything particularly interesting at the show or if anything has blown them away.

 This will give you an insight into their personality, interests, and what is likely to impress them. 

Ask what they and their company do.

 Show genuine interest. 

If you're familiar with their company, say so, and indicate how you relate to them.

 (For example: "Oh, we use your software for our accounting, and it's really sped things up!") If you're not familiar with their company, ask some follow-up questions to learn more. 

If you know of another company (that is not a direct competitor of yours) that might help the person, point them in the right direction.

 This might seem counterintuitive, but people will remember those who've helped them out or given them a good tip. 
By being personable and friendly, you give your booth and business the best chance of being remembered for the right reasons. Most tradeshows offer a host of networking events once the main exhibition has wrapped up, and you might get a great opportunity to continue a conversation you started at your booth earlier in the day. 
Making the Most of Tradeshows
Tradeshows are back in a big way following the pause necessitated by the pandemic. This means there has never been a better time to get your business in front of interested prospective customers and clients. 
Here at Hygrade, we offer a host of print services, digital signage, and promotional products to help you make the most of your tradeshow booths this year. If you'd like to discuss your ideas or how we can help, please reach out to a member of our team today.