10 Promotional Products Examples that Reinforce Your Brand's Message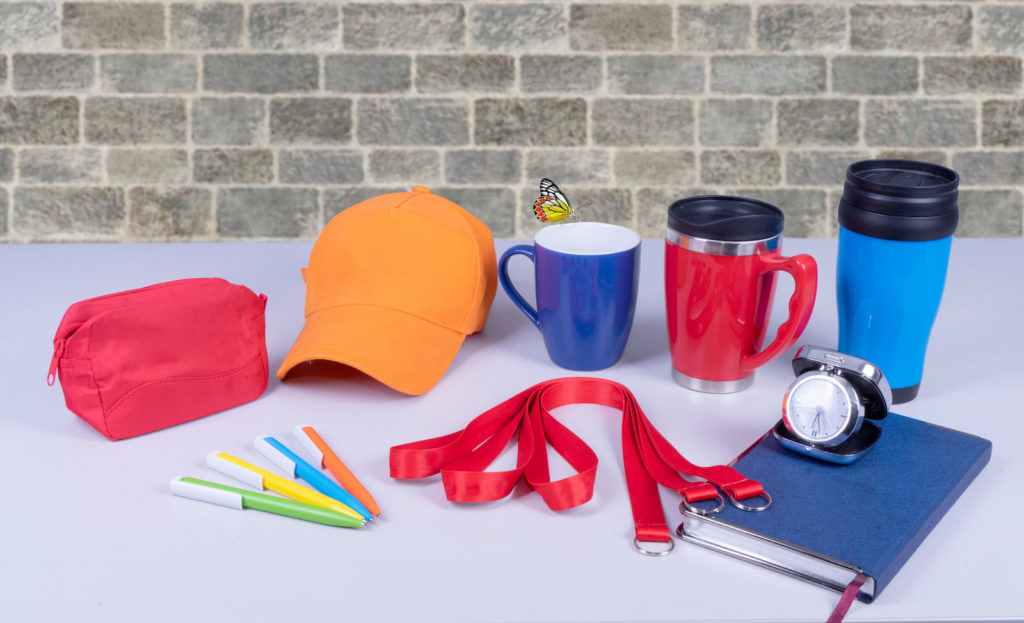 10 Promotional Products Examples that Reinforce Your Brand's Message
Promotional merchandise are products branded with a logo or slogan and distributed at little or no cost. Such products, which are often informally called promo products, swag, tchotchkes, or freebies, are used in marketing and sales. They are given away to promote a company, corporate image, brand, or event. They are often distributed as handouts at trade shows, at conferences, on sales calls, and as bonus items in shipped orders, and are often used in guerrilla marketing campaigns.
Promotional products are hugely effective for several reasons. Most people enjoy getting something for free, especially if it is something they will actually use and benefit from. This creates a feeling of goodwill towards your company. When people view you positively, they are more likely to trust you with their money.
Business promotional products also help with brand recollection. When people recognize your brand, they are more likely to view it as trustworthy and ultimately to buy from you. When they see and use an item adorned with your logo regularly, brand recognition increases. This helps you to stand out from the advertising noise we're all bombarded with every day.
But what types of promotional corporate gifts should you opt for? Here are ten promotional product examples we love.
1. Notebooks and pens
Notebooks and pens are endlessly useful. Whether they're used for making notes in a meeting or for jotting down a shopping list, many of us reach for paper and a pen multiple times throughout the day. If you give your employees, clients, or prospective customers promotional notepads and pens, they will be reminded of your brand's message every time they need to write something down.
2. Promotional apparel
Some businesses require their staff members to wear branded apparel while on the clock. If your business is one of them, you'll understand the ways in which branded clothing can reinforce a brand message.
If your employees do not wear a uniform, you can still make use of items of branded apparel as promotional products. T-shirts, polo shirts, hoodies, and button down shirts are all popular options.
Remember to have a range of sizes in stock and to offer options for both men and women. You might also like to offer a selection of colors for your employees or clients to choose from. When they wear your branded items, your recipients will become walking advertisements for your brand!
3. Drinkware
Coffee cups are one of the most popular promotional employee gifts. Most of us enjoy a cup of coffee or tea while we're working, so mugs get used every day. From insulated travel cups to ceramic mugs, branded drinkware is always a good choice for promotional products.
If you want to go the extra mile, you could even include branded tea bags or sachets of coffee or hot chocolate mix. This way, when your employees or clients enjoy their next hot drink, they'll remember your brand and feel positively towards you.
Other drinkware options include wine glasses, shot glasses, water bottles, and thermos flasks. Beverage insulators, coasters, and bottle openers are some alternative adjacent ideas.
4. Lunch coolers and totes
As many of us are trying to both save money and live healthier lifestyles, more and more people are packing lunch at home and bringing it to work. However, some people are put off from doing so by the lack of a suitable place to store their food during the working day. This makes branded lunch coolers and practical tote bags popular choices for promotional merchandise that will be used every day.
An insulated lunch bag keeps hot food hot and cold food cold. They are lightweight and easy to carry, and equally useful out on the road as in the office.
5. UV cell phone cleaners
The Covid-19 pandemic has caused many of us to be more conscious of hygiene than ever before. We all know that we need to wash our hands and sanitize surfaces regularly, but many people do not realise that their cell phones are likely harbouring thousands of bacteria, some of which could make them and others sick.
Ultraviolet (UV) and Ultraviolet C (UVC) cleaners are exciting technological developments to help people keep their cell phones and other personal belongings clean and sanitary. The ultraviolet technology uses light at specific wavelengths to destroy the molecular structure of the harmful microorganisms that lurk on high-touch items such as cell phones.
These cleaning boxes can also be used for watches, jewelry, and even cash and coins. An excellent investment in a healthier workforce!
6. Outdoor games and sports equipment
Do you have a lot of sports fans on your staff? If so, promotional sports accessories can go down very well as branded gifts. From balls to bags and compasses to towels, sports-related gifts help create an association between your brand and the joy that a favorite sport brings.
But pay attention to which sports are popular! There is no point giving out promotional golf accessories if your team is more into football, and vice versa.
Another great option is outdoor games, particularly during the summer when people are likely to be enjoying time outside with their friends and families. From footballs and Pickleball sets to frisbees, water guns, and outdoor checkers, anything that can be enjoyed as part of a fun and relaxing day in the sun is likely to be welcomed.
7. Home goods
Food and drink are almost universally associated with community and togetherness, as well as being necessities for life. However, giving food and drink as a gift can be a minefield – for example, you wouldn't want to give meat to a vegan or alcohol to someone who doesn't drink for religious reasons! However, goods that can be used in the home are a hugely popular alternative.
Kitchen knives, cutting boards, and even frying pans are all great options. They are highly practical, can be used by almost anyone, and will remind recipients of your brand every time they cook something in their kitchen at home. Pizza cutters, cheese boards, and multi utensil sets are more unusual choices that are also likely to be well received.
8. Travel & duffels
Travel might have been on pause for the last 18 months, but people are now starting to fly and take long haul trips again. Therefore, why not include travel accessories in your promotional gifts? Passport holders, luggage tags, travel-sized toiletries, and travel wallets are all great options.
Duffel bags are amongst the most popular choices for travel related gifts. This is because they are highly versatile. They're ideal for a weekend away or a short business trip, as a carry-on bag for a longer trip, or even as a gym bag for those staying closer to home.
Don't forget about the ever-popular umbrella, too. If you live in an area with unpredictable weather or have staff who travel a lot, a branded umbrella that they can keep in their bag will always be welcome during those unexpected bouts of rain.
These gifts will go down particularly well if your staff or clients are required to travel frequently for work. They will be genuinely useful and will help to spread your brand message more widely.
9. "Welcome back to work" kits
Many people have been working from home since the beginning of the pandemic and may have recently returned to work or plan to do so shortly. Show your people that you value them and all their hard work over these last, challenging 18 months with a "welcome back to work" kit.
You can purchase pre-made welcome back kits, or build your own with a selection of items that you know your staff will love. Think things like pens and notebooks, small technology items such as cell phone chargers, drinkware, and so on. Package and present everything in a gift box or a practical bag that can be reused.
10. Air quality items
Air quality can make a huge difference to comfort and quality of life, both at home and in the workplace. So why not offer air quality improvement items such as humidifiers and misters as corporate gifts? These items can help to fight allergies, improve coughs and colds brought about by dry air, and keep a space feeling fresh and clean.
And forget about large, bulky and impractical devices. You can now get many small air quality items that sit comfortably on a desk or end table. Many of them are even very stylish, and as decorative as they are functional.
What to Know When Choosing Corporate Promotional Products
The key to choosing the right promotional products is to understand your audience. What do your employees, clients, and customers value? What is likely to go down well with them? You'll need to understand who you're trying to appeal to in order to learn what types of promotional products they will enjoy. No matter your budget, there are many options available to you within it.
You also need to have a clear idea of your own branding and messaging. What message is it you're trying to reinforce? Only by understanding that deeply can you choose promotional products that will get the right message across to the right people every time.
We hope these ten ideas have inspired you.